The next generation 2021 Escalade is the next level of luxury. Innovative new technologies combined with extraordinary design create a bold new look that will always have you arriving in style.
The 2021 Cadillac Escalade,with styling taken from the brand's Escala concept. It shares its platform with the new Chevy and GMC full-size SUVs, meaning it gains an independent rear suspension that opens up more interior space. The new 2021 Escalade will go on sale in late 2020.The Escalade is the flagship of the Cadillac brand, and Cadillac is the only luxury brand GM has left. It's also a full-size vehicle, and that's a profitable footprint for any brand. It's the sales leader in its segment, and Cadillac is also GM's tech showpiece. And the new 2021 Escalade has a high bar to clear, with the stylish Lincoln Navigator garnering critical acclaim.
The luxury 2021 Cadillac Escalade SUV has 36 speakers, 38 inches of OLED displays, and it can drive itself.
2021 Cadillac Escalade Offers Luxury And Sport Models
It's not easy styling a massive SUV, but Cadillac has continued its Y branding strategy, where it offers both a luxury and a sport version for each nameplate. The Luxury models have the expected chrome and other bright bits, but the bling factor has actually been dialed back, and the result is a more sophisticated look for a maturing vehicle.
The new Escalade's first foray into a Sport-fettled version offers enough blacked-out features to easily differentiate the model, but with blessedly tasteful restraint. It would be easy to put an intimidating grille on an already massive vehicle, but designers kept the proportions measured. As the grille and wheels grew—22-inch wheels are now standard—the Cadillac crest emblem was also upsized. Goldilocks herself would likely deem the new proportions just right.
The 2021 Cadillace Escalade is seven inches longer than the current model and will continue to be available in standard- or long-wheelbase configuration; the latter is still called the Escalade ESV, and it is 2.6 inches longer than the current model. Escalades are mechanically related to the 2021 Chevrolet Tahoe and Suburban, as well as the 2021 GMC Yukon and Yukon XL.
Cadillac will offer the 2021 Escalade and Escalade ESV in Luxury, Premium Luxury, Sport, Platinum Sport, and Platinum Luxury trims. The price is expected to start near the current model, which is $76,500, then climb from there.
There will be more than one powertrain, but the 2021 Escalade will launch with an updated version of the 6.2-liter V-8 as standard, which already generates 420 horsepower and 460 lb-ft of torque, and whose active fuel-management cylinder-deactivation system is supplanted by the more efficient Dynamic Fuel Management version of the same tech. It also has variable valve timing and automatic engine stop/start.
Every 2021 Escalade comes standard with forward collision warnings and automatic emergency braking with pedestrian detection, front and rear parking sensors, surround-view camera system, and lane-keep assist. A parking assist system, lane departure warnings, blind-spot monitors, and rear cross-traffic alert along with lane-change alert and night vision systems are all available.
2021 Cadillac Escalade Specifications
BASE PRICE
$77,500-$102,000 (estimated)
VEHICLE LAYOUT
Front-engine, RWD/AWD, 8-pass, 4-door SUV
ENGINES
6.2L/420-hp/460-lb-ft OHV 16-valve V-8; 3.0L/277-hp/460-lb-ft DOHC 24-valve turbodiesel I-6
TRANSMISSION
10-speed automatic
CURB WEIGHT
5,650-6,350 lb (est)
WHEELBASE
120.9-134.1 in
LENGTH X WIDTH X HEIGHT
211.0 x 81.0-81.1 x 76.4-76.6 in
0-60 MPH
5.5-8.0 sec (MT est)
EPA CITY/HWY/COMB FUEL ECON
Not yet tested
ON SALE IN U.S.
Summer 2020

Choose from five distinct trims.
INTERACT WITH THE 2021 ESCALADE

Explore, customize and share your own 2021 Escalade.
LAUNCH EXPERIENCE
THE GAME CHANGER 

---
The 2021 Escalade showcases the industry's first curved OLED screen with more than 38″ of total diagonal display. This one-of-a-kind customizable display has twice the pixel density of a 4K TV.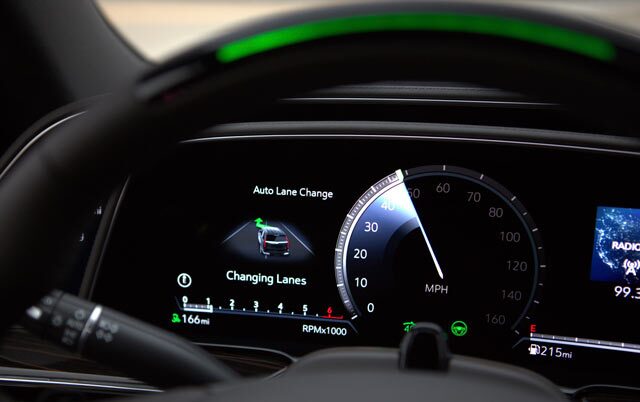 ---
GO HANDS-FREE WITH SUPER CRUISE™

---
The future of driving has arrived. The 2021 Escalade features available Super Cruise, the first true hands-free driving-assistance feature for compatible highways.± Super Cruise on Escalade offers several new enhancements, including lane change on demand functionality.

---
---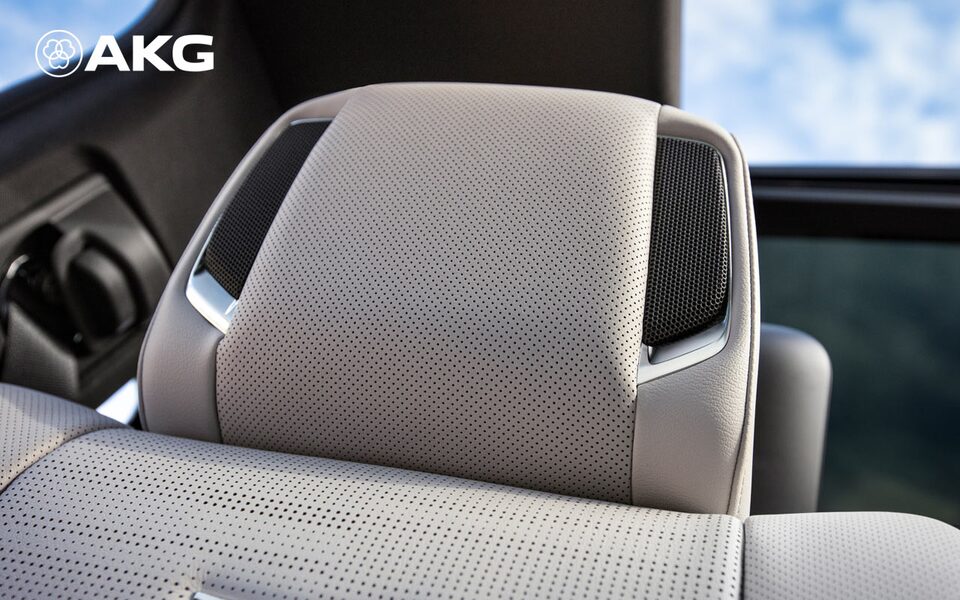 ---
THE HIGHEST IN HIGH-FIDELITY

---
New to the automotive industry and exclusive to Cadillac, AKG audio technology brings professional studio sound to the Escalade. The available AKG Studio Reference sound system provides 36 speakers throughout the cabin at different height levels and locations for an immersive 360-degree listening experience.
---
EXPLORE THE 2021 ESCALADE WITH CADILLAC LIVE

---
Cadillac Live is a real time, interactive virtual showroom tailored around you and your vehicle needs. Now you can step inside the next generation 2021 Escalade for exclusive access to the iconic luxury SUV before it even comes to dealers.
---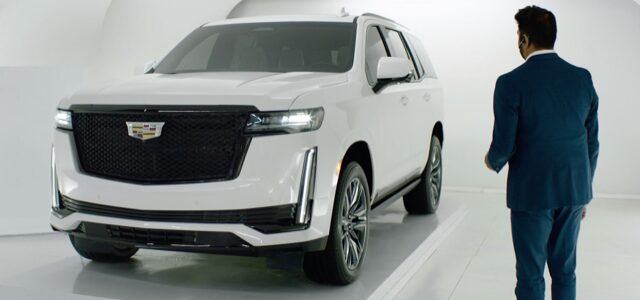 ---
SEE IT LIVE

Take a one-on-one virtual tour of the completely redesigned 2021 Escalade from the comfort of anywhere. Once your Cadillac Live session begins, you'll be matched with a Live ambassador who can help answer questions you might have about the bold exterior and interior designs, as well as its innovative technology advances, such as the industry-first curved OLED screen.START YOUR ESCALADE TOUR
---
---
---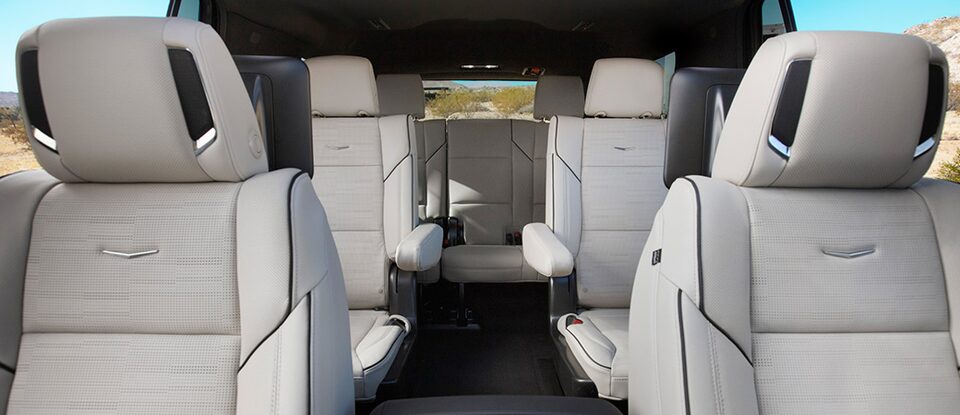 ---
THE ARTISTRY IS IN THE DETAILS

---
The Escalade takes a not-so-ordinary approach with finely-tailored interior design. Choose from eight luxurious combinations of interior trim options and four unique seat insert designs with varied perforation patterns and stitching.
When can I order a 2021 Cadillac Escalade?
The new  2021 Escalade is scheduled to go on sale in the third quarter of 2020
When was the first Escalade made?
The Escalade was introduced for the 1999 model year
Who makes Cadillac?
Cadillac /ˈkædɪlæk/ is a division of the American automobile manufacturer General Motors (GM) that designs and builds luxury vehicles. Its major markets are the United States, Canada, and China.
Why is the Escalade so expensive?
People buy them over the Suburban/Tahoe because its a status symbol that has become deeply engrained in pop culture. Same as the Range Rover. They're expensive simply because people are willing to pay that much for them.